The Travel Modelling Group (TMG) at Mobility Network shared a video of their online workshop "Creating Custom EMME Tools and Exporting Subareas" held on December 7, 2022.
The tutorial on using INRO's EMME software to create custom tools and export subareas was hosted by James Vaughan, Senior Software Architect, TMG, and Williams Diogu, Transportation Network Modeller, TMG.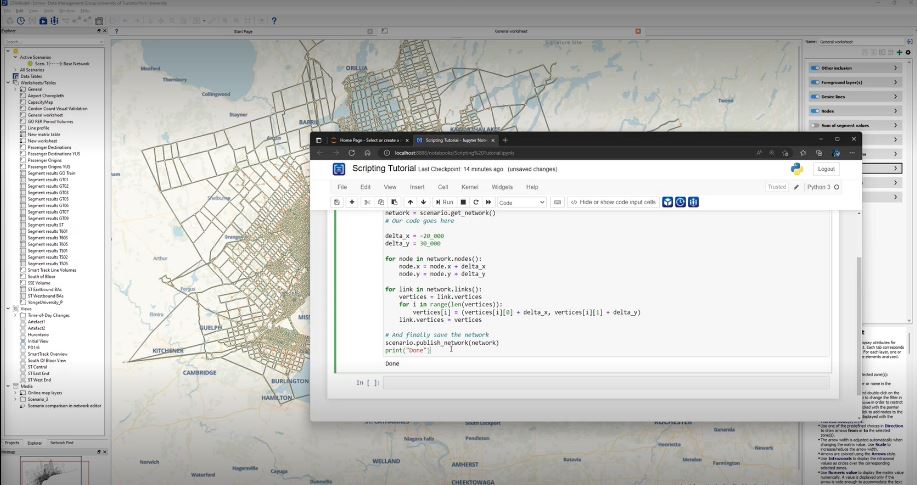 See the workshop video
Access "Creating Custom EMME Tools and Exporting Subareas" workshop video recording.
About EMME software
EMME is a transportation forecasting system for planning the urban, regional and national movement of people. EMME is used to create digital transport models for travel demand forecasting, traffic planning, transit service planning, and related applications to provide an evidence base for transport strategy and policy decision-making.
About the Travel Modelling Group (TMG)
The mandate of the Travel Modelling Group is to improve the state of travel demand modelling practice in the Greater Toronto-Hamilton Area (GTHA), which is facing major challenges to develop, implement and operate a multi-modal transportation system for the movement of both goods and people that meets the economic, environmental and social goals of the region in a cost-effective and sustainable manner. The TMG is supported by agency partners, including Metrolinx, the Ontario Ministry of Transportation, Cities of Toronto, Hamilton and Mississauga, and the Regions of Durham, Halton, Peel and York.
For more information please visit the TMG website.