Mobility Network presents 'The Way Forward: Tackling our legendary congestion with ITS and transit'
June 13. 4:00 pm

to

5:00 pm

EDT
Back in 2013 it was estimated that congestion in the GTHA resulted in $11 million in annual lost productivity, and things haven't improved. Toronto is the most congested city in Canada, and ranks as third most congested in North America. In 2022, average travel speeds during peak commute periods were 32 km/h, compared to 50 km/h in 2019; the average traveller lost 118 hours commuting.
How can Intelligent Transportation Systems and transit help us get more out of existing infrastructure to reduce congestion?
Speakers
Baher Abdulhai is a professor in the Department of Civil & Mineral Engineering at the University of Toronto. He has 33 years of experience in transportation systems engineering and Intelligent Transportation Systems (ITS).Prof. Baher Abdulhai has 33 years of experience in transportation systems engineering and Intelligent Transportation Systems (ITS).He is the founder and Director of the Toronto ITS Centre and the founder and co-Director of the Centre for Automated and Transformative Transportation Systems. Abdulhai received several awards. In 2014, he won the University of Toronto Inventor of the Year Award for MARLIN, an artificial intellegence-based, self-learning, self-collaborating adaptive signal control. Most recently, in 2021, he won the Ontario Professional Engineers Awards Engineering Medal for career Engineering Excellence.
Tim LaChapelle has over 28 years of software development leadership experience in multiple markets from Aircraft Communications, Medical Systems Instrumentation & Data Analysis, Global Internet Optimization, and many other big-data markets in commercial industry. In his last 12 years at PARSONS, Tim spent 10-years leading the technical execution in our National Security business segment, helping to drive innovation and completion of key strategic national cybersecurity initiatives, and especially the last two years helping to lead the digital transformation of PARSONS' aviation, rail, transit, intelligent infrastructure, environmental, and energy businesses. As Chief Digital Officer at PARSONS, Tim continues to leverage his skills to push technical innovation and digital transformation across PARSONS' federal and critical infrastructure businesses to ensure a more resilient and sustainable world for customers and his family (wife, Laura, and their four children) located near Baltimore, Maryand.
Amer Shalaby is Professor and Bahen/Tanenbaum Chair in Civil Engineering at the University of Toronto. He is the founding Director of the Transit Analytics Lab (TAL) and Co-Director of the Centre for Automated and Transformative Transportation Systems (CATTS). Dr. Shalaby is specialized in transit planning and scheduling, intelligent transit systems, transit operational management, transit system resilience, automated and connected transit technologies, and simulation and modelling of transportation systems. He has served on various technical committees and journal editorial boards. He also served on advisory panels of multiple transportation projects in Canada and internationally.
Moderator
Dr. Judy Farvolden is the founding managing director of Mobility Network at the University of Toronto. Prior to that, she was the founding executive director of the University of Toronto Transportation Research Institute. Through an extensive network of industry and government partners she identifies opportunities to apply the University of Toronto's broad and deep transportation research expertise to realize a future of seamless, integrated mobility that enhances access and equity, and mitigates climate impacts. Dr. Farvolden serves on the board of the Canadian Urban Institute, the advisory board of the Urban Land Institute, Toronto Chapter, the Toronto Region Board of Trade's Council on Goods Movement, the City of Vaughan's Smart Cities Advisory Task Force and the editorial advisory board of Electric Autonomy Canada. Prior to joining UTTRI, Dr. Farvolden held senior management positions in several Toronto start-up companies and consulted on financial technology management. She holds advanced degrees in both engineering and planning: a PhD from Princeton University in transportation and operations research and a master's degree in urban planning from the University of Toronto. She received a Certificate in Public Policy through Harvard Kennedy Executive Education in October 2021.
Register to attend
Register on Eventbrite for this virtual event.
Free. All are welcome.
If any specific accommodations are needed, please contact mobilitynetwork@utoronto.ca. Requests should be made as early as possible.
About The Way Forward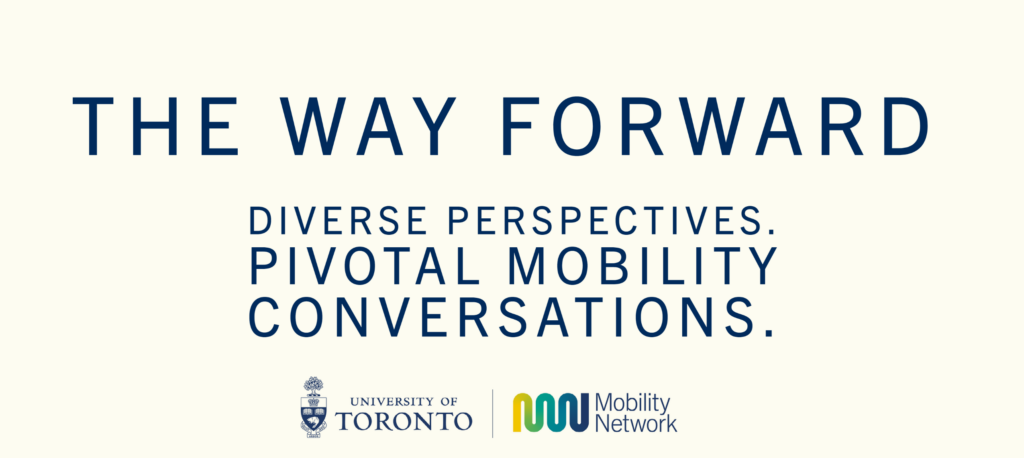 Explore the many ways mobility affects our lives at The Way Forward, a panel discussion series. Join the conversation!
All sessions take place online on Tuesdays from 4:00 p.m. to 5:00 p.m. and are free. Registration is required.
An introductory overview will be followed by short presentations, a moderated panel discussion, and audience Q & A. This event will be recorded and shared.
Interested in more The Way Forward sessions?